In about 3 years of research and work, all the most mysterious and fascinating stories that have happened in Montelupone in the last thousand years have been reconstructed. From this research the Mystery tour was born!
It is a traveling show around the town and in the caves of the historic building where the restaurant La Taverna dell'Artista is located.
It starts from 10 Regina Margherita Street and a guide in medieval costume will take you around the village, to the places where the strange events that happened will come to life again thanks to the stories expertly told, with the help of realistic video projections.
Everything is told in a fun, interactive and somewhat scary way.
Halfway through this tour, another actor in armor appears playing a historical character who actually lived in Montelupone, a bloodthirsty mercenary who terrorized the Marche region and all of Italy.
We then continue around the town between various time jumps until we arrive at Magner Palace where the dark stories of the family of the same name who lived here in the 1800s will be told. One of these stories takes us slowly into the caves!
The caves are from the 1700s, perfectly preserved.
We will be 10 meters underground by candlelight.
The tour ends right in the caves with a final experience in total darkness, very short but very intense thanks to some special effects.
It is a magical adventure in which you become a protagonist, walking through history between reality and legend, discovering the dark secrets of a medieval village… revealed for you by moonlight.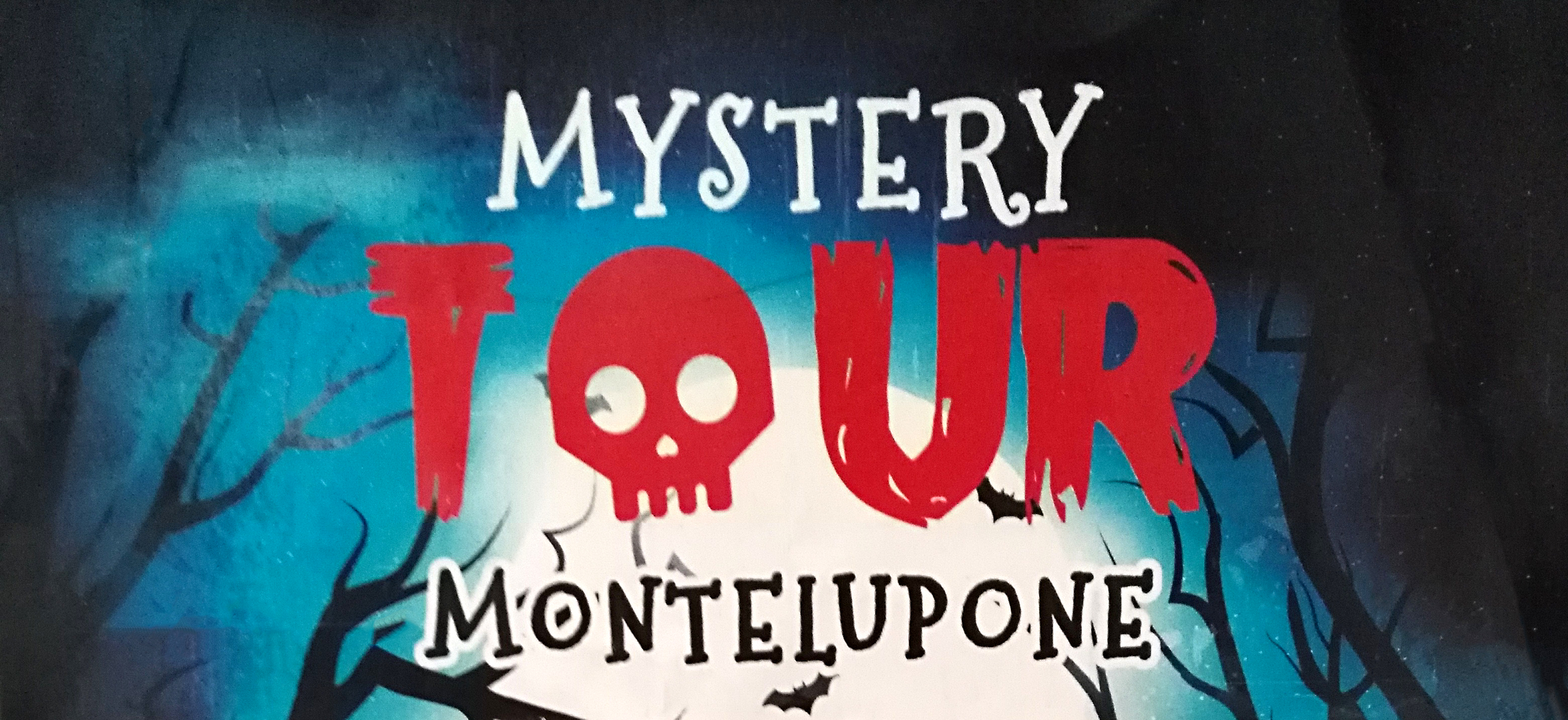 ---
MISTERY TOUR
IThe tour takes about 1 hour and 45 minutes (which goes by as fast as the wind!).
Suitable for all ages.
The cost is €13 per person for adults, €10 for children (under 10 years old).
With the tour ticket you will get 10 percent off dinner at La Taverna dell'artista (before or after the show).
Starts daily by reservation only (for a minimum of 7 people, up to a maximum of 30).
It starts at 19.00/19.30 or 22.00/22.30
---
SPECIAL TOUR (for large groups of people)
by reservation for large groups of people, up to 70 participants
Mystery Tour in an expanded version! Same tour but longer, with 4 actors and one with an additional performance part.
Duration: about 2 hours and 15 minutes.
Cost is 14 € per person for adults, 10 for children (under 10).
With the tour ticket you will get 10% discount on dinner or lunch at the Artist's Tavern (a la carte, before or after the show).