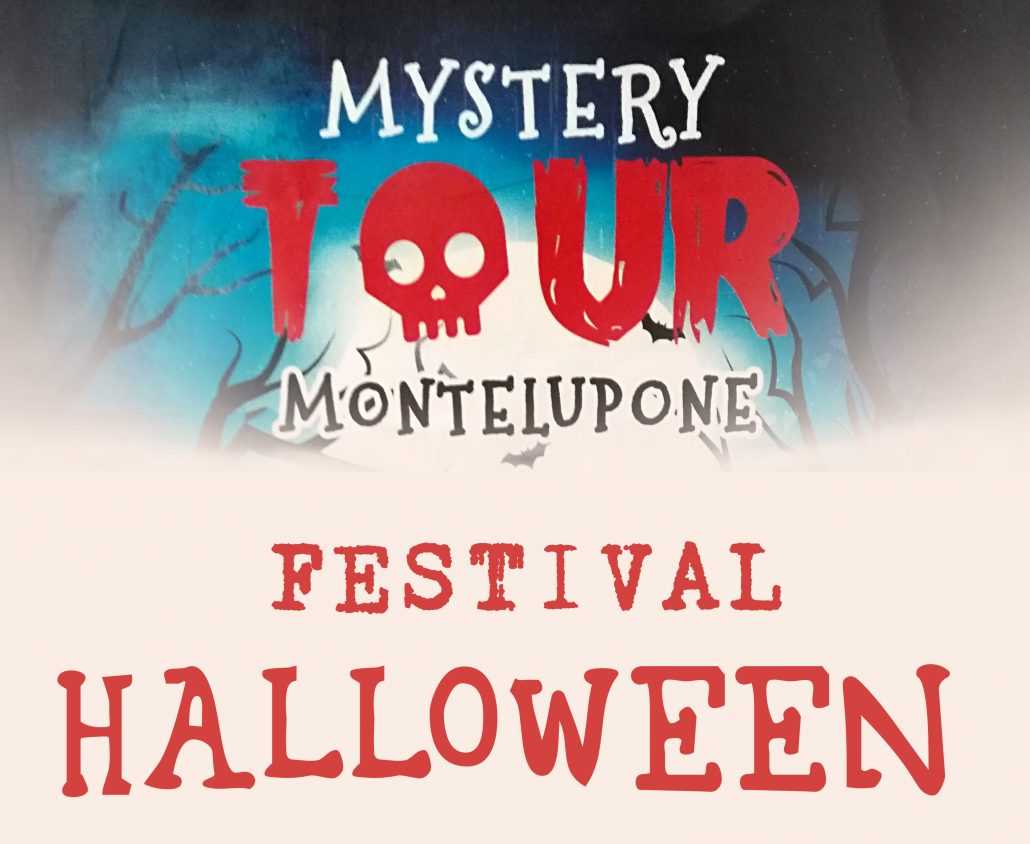 During the Halloween period (October 31 and November 1 plus other days based on bridges) the Montelupone Mystery tour transforms and doubles with two different shows!!!
L'oscura vera storia del borgo
An extended version of the classic Mystery tour…
VAs many as 10 costumed actors are involved and all the stories we usually tell… come to life! With some stories being told only on those days and not on the regular Mystery tour.
---
Up to 3 shows per day start at different times. Each show can accommodate up to 50 people and lasts about 2 hours and 15 minutes.
The Show is always most suitable for all ages and always based on true stories, but told in the form of a show, fun, interactive and a little scary… With the ending always in the caves but with more special effects.
Anyone can come in disguise, and the presence of so many actors creates a one-of-a-kind and inimitable show!
Inquire and book as early as possible… The Halloween special is suitable for everyone ages 5 and up, recommended with accompanied children… and it fills up very easily!
Schedules:
17.30 – 20.00 – 22.30
Cost adults 16€ per person, children under 10 years old 13€ per person.
If you come before or after to eat at La Taverna dell'Artista, the cost is 13€ for everyone
Cost and reservation info
Call us or WhatsApp:
+393333280594
Uno squarcio nel tempo
Bordering on legend, history is made up of small events, sometimes very small…
---
An incredible event lost in time was recently discovered in Montelupone!
An awkward, dark individual will lead you on a mysterious journey to awaken lost souls in history!
Opening glimpses into time, starting from Montelupone, you will touch the great history of the world.
Lots of costumed actors will take you through parallel worlds, discovering a red thread that weaves our local history with the fate of entire kingdoms!!!
A show suitable for everyone (accompanied children, recommended for ages 5 and up), which takes place in the beautiful setting of Franchi Park in Montelupone. It will be repeated daily at 4 times:
Schedules:
17.30 – 19.00 – 20.30 – 22.00
duration about 60 minutes
cost 10€
Cost and reservation info
Call us or WhatsApp :
+39373764 2150
+39 328 065 0164